Overview:
The Hotend with Stainless Steel Nozzle has a special all-in-one design for Bambu Lab 3D printers only.

The nozzle is integrated into the heatblock and connected to the heatsink via a thin metal tube for best performance.

Having this design allows the hotend to heat up much faster than a regular hotend, and the all-in-one design minimizes issues that might come up when swapping 
nozzles.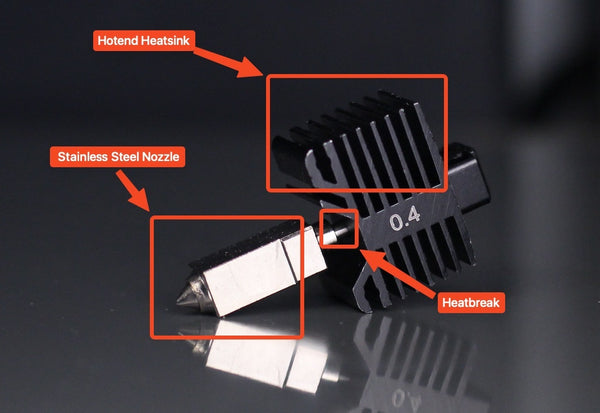 The heatsink is made of high thermal conductivity aluminum alloy, and the throat is made of TC4 titanium alloy.
The nozzle is made of a combination of copper alloy and stainless steel, which ensures hardness while allowing for high flow printing.
Cautions:
The 0.2mm nozzle is mainly used to print high-detailed models. Due to the small size of the nozzle,
it is not recommended to print materials contained with fillers or fibres. Otherwise, there is a risk of clogging.
Installation:
In the Box:
- Hotend with Stainless Steel Nozzle
- Thermal Grease
- 2 * M3-14 Step Screws 
Compatibility:
X1 Series, P1P
Product Specifications
Max. Printing Temperature
300 ℃
Length
47.3 mm
Nozzle Hardness
25-30 HRC
Packaging Size
60*60*30 mm
Application
PLA / PETG / TPU / ABS / PA / PC
Packaging Weight
30 g
Material
Metal
Color
Dark Gray